GSlot Casino — My Experience 
I know some of you might be eager to start betting in GSlot right now, so here is the quick overview of my experience so that you can form your opinion and decide whether the casino suits you or not. But remember, those who are patient enough to read till the end will learn much more interesting things about the website. 
1. I prefer using Neteller for my online casino deposits as it's one of the easiest ways to make a gambling transaction in Ireland. So I topped my account up with 30 EUR and transferred them to GSlot within seconds. 
2. As always, I started by checking the wagering requirements of the welcome bonus. They appeared to be 40x which is too high for me, as you know, so I decided not to claim the offer and proceeded to play with my own money. 
3. For the test, I've chosen the Frost Queen by Yggdrasil — a winter-themed progressive jackpot slot. It wasn't my luckiest day as I didn't hit the jackpot, but still lucky enough to bring me 210 EUR.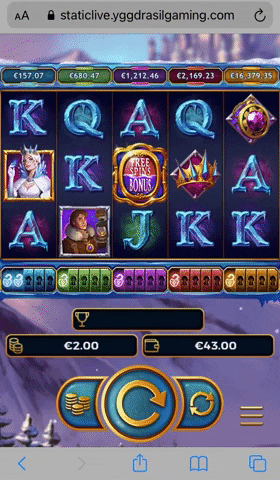 4. Can't say much about the withdrawal process as it was quick and smooth — no issues and no super-thorough KYC procedures. 
So, to cut it short, GSlot is quite a decent casino where you can easily deposit your money, get some wins, and safely withdraw them to your Neteller account (or any other payment option available, I believe). But is there anything else to know about the website? Let's see. 
GSlot Casino — 6 Things to Know
If you've been following my casino reviews, you should know that I always use the same 6 criteria for evaluating a casino, whether it's a new website or a casino that I'm closely familiar with. GSlot was not an exception, of course. 
Safety and security
When you are a newbie, it's easy to get lured by the good casino design and forget to check whether it's safe enough. Luckily, I've already done it for you with GSlot. Even though the website does look really good, it's not luring the players in vain: the website is properly licensed by the Malta Gaming Authority, and it looks like its reliability is immaculate. 
It's also mentioned on the GSlot website that the players' data is carefully protected, although I wasn't able to find any detailed information about what exactly the casino does to not let your money and personal information be leaked. 
When it comes to security, there are two more things to know about GSlot: 
It's a new casino, which means it gives you a chance to make use of new bonuses, promotions, and games. Sometimes, it might feel risky, but GSlot was founded by the N1 Interactive Ltd. — the company with a spotless reputation in the gambling world, so it looks like everything should be alright. Nevertheless, I always test everything myself, as believing the loud words only has never done a gambler any good.
There is no information about any testing certificates from eCOGRA or iTECH Labs on GSlot website. It can be explained by the fact that the casino is brand new, but I hope it will be fixed soon. 
Payment methods available
I can't say that GSlot has impressed me with its choice of payment options, although there are several methods that players from Ireland can make use of: 
And this is how you can withdraw your wins if any: 
As for my own experience with cash-ins and cash-outs in GSlot, I have nothing bad to say. Both the deposit and withdrawal were swift (it took only around a day for me to get the wins into the Neteller account) and I had no reason to worry. 
Welcome bonus
Casinos are rarely 100% perfect, and there is always a little thing to spoil the party. In this case, this thing is called "wagering requirements". On the first glance, the welcome bonus from GSlot looks good — a deposit match + some free spins — but once you look closer, you'll see that the wagering requirements are 40x, and they are not only applied on the bonus money but also on the winnings you can potentially get from the free spins. I believe these requirements to be too hard to meet, so the bonus was not claimed by me this time. 
But there is a chance you'll still find some freebies here, as GSlot has quite a lot of other promotions on the list: 
Game list
Despite being new, GSlot has all the potential to get a gold medal from me for having an impressive list of gambling games. There are more than 6000 of them, including live-dealer games, table games, and all kinds of slots. You can conveniently sort the games through 40+ providers, or take a look at the pre-made selections of the new and the most popular titles. 
Mobile compatibility 
As I often play gambling games on my iPhone, I decided it would be fair to test the mobile version of GSlot, and I must say that I was totally satisfied with it. Every stage of the process — from the registration procedure and up to the withdrawal of the wins — was quick, smooth, and convenient to walk through. The mobile version of the casino has no difference with the desktop one, and I didn't experience a single freeze, except for the moment when I had a little Internet connection drop, but that's not the casino's fault. 
Customer support 
I was glad to see that there is a live-chat option in GSlot, as I don't like to wait for days for my email to be replied, and least of all I want to call the casino to ask a short simple question. But the joy was short-lived, as the customer support here is definitely not the fastest one I've seen. Even though I got the reply in the end, I took more than 8 minutes for a CS member to join a chat and help me. 
GSlot Casino — Other Things to Know
1. A VIP/loyalty program
A "VIP program" sounds like something you can only join if you make huge bets, but that's not the case in GSlot. Here, you'll be getting bonus points for every euro you spend — all to exchange them into bonus money and free spins later.
2. Responsible Gaming 
I really like it when online casinos promote responsible gambling and allow players to set the limits if needed. If you feel like you are not really good at self-control, you can easily limit how much money or time you spend in a casino, or even block your account permanently.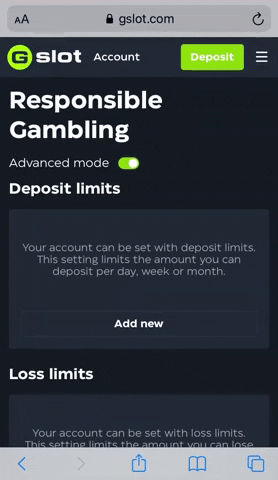 Conclusion
So, I've looked at GSlot casino from every angle, and here is my final verdict. GSlot is quite a good online casino, even though it is still very young. It has the up-to-date design and interface, there are no security issues, and players can enjoy all possible games here. As for the cons of GSlot, I can name at least two: pretty high wagering requirements and customer support that works slightly slower than I expected. But I believe these issues will be resolved soon, once GSlot casino grows older and gains some experience on the market.