My Experience of Playing at Casumo
Well, the day I decided to check Casumo casino was quite a lucky one for me. Before I start evaluating this website and discussing its characteristics one-by-one, I'd like to tell you a few words about how it all went. So, here is the brief summary of my experience at a Casumo casino:
1. I've deposited 30 EUR via NETELLER (and evaluated the other payment choices - read about them later)
2. I immediately got the main welcome bonus which added 100% to my deposit amount.
3. Trying to select the game, which suited my mood best, I set my sights on a Jokerizer by Yggdrasil. With its high volatility, joyful and a bit tricky atmosphere, and flexible RTP (from 88% to 99%), that was just what I needed at the moment, cause I was hungry for some rollercoaster ride.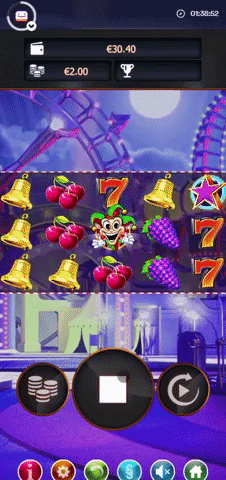 4. I was playing until I won €296 (almost 10 times my initial deposit), and then asked for a payout. €296 is not a fortune for sure but quite good considering my initial spending.
5. In a day, I got money on my NETELLER account. 
As you see, my gambling story went smoothly that day. However, I've discovered a few hidden pitfalls, and I'll share them with you.  
Casumo Casino Review: 6 Criteria
You probably know that for each casino review, I use 6 important criteria, and talk about each one in detail. They are the following:
Casino reliability
Safety is always the number one priority for me, so I never play in casinos that are not licensed by reputable authorities. For Irish players, the best possible option is to choose a casino that is authorised by MGA, or the Malta Gaming Authority. How can you make sure a chosen platform has this license? Just take a look at the website footer: it should necessarily have the MGA logo. Just like here:
So, yes, Casumo casino is licensed by MGA. 
But that's not all. 
To protect your (and mine!) personal information from hackers, it uses 128-bit SSL data encryption. And, what is more, it IS fair. How do I know? Actually, I don't know, but eCOGRA does. And considering that such an organisation has issued a certificate to Casumo, it's certainly worth trusting.
Depositing and cashout methods
Do you know what the main mistake of lots of casino users is? Before they deposit money, they check the list of available payment options. BUT these payment options are usually the deposit options, not the withdrawal choices. The list of cashout methods is usually much smaller and less convenient. 
That was just the case with Casumo.
With one little difference. I DID check both lists in advance and was prepared. Here is why I chose NETELLER for a deposit. It simply was the only choice present in both lists (so I could conveniently get money back to the same account). 
Compare: this one is the list of depositing methods (5 options):
...and this one is for withdrawal (2 options available):
For me, that was not a problem, because I used my NETELLER account and was able to deposit €30 within seconds and withdraw €296 within a day. 
Welcome bonus
Now, let's talk about the Casumo welcome bonus and whether it's possible to make any use of it. The key promotion of this casino was a 100% deposit bonus up to €300 on my first deposit. Here is the screenshot, you can see that I've taken it:
You know, I usually do not care as much about the welcome bonus amount as I care about the bonus terms. I always read them carefully, because they can be too tricky. Though, with Casumo, everything was clear and lucrative from the beginning: the wagering requirements were 30x (which is more than reasonable), and the game weighting was as follows:
Considering this, I've made my mind on playing slots in order to get most of the welcome bonus. I did wager it very quickly with small bets and won €296 of real money gradually increasing the bet amount.
So, if you like a good old deposit bonus, my advice to you is to be always careful before you take it. Otherwise, you may end up with the endless spinning (that usually results at a total loss) or making mistakes like placing too high bets. 
In order to avoid such a situation, you should necessarily read terms and conditions and check two things: wagering requirements and game weighting. 
Game variety
Bad news: The overall quantity of Casumo games is not too impressive for an experienced player like me. There are 850 games total, including 60 live games.
Good news: You can sort all games by the provider and find the ones that suit you best very quickly. That was just what I did. I needed a playful and teasing Yggdrasil game today, and I found it very quickly using this filter. By the way, even despite a low game variety, you can find most popular game providers in the list.
Mobile compatibility
When I'm performing a casino check, I always compare its mobile/tablet version with the desktop one. I personally prefer combining both, though mobiles are certainly more widespread simply because they allow you to make bets on the go. Having played at different online casinos, I'm well acquainted with the situation when the mobile version has a limited functionality: filters do not work well, part of the information is not visible, etc.
With the Casumo mobile version, I haven't managed to find any flaws. Everything operates smoothly on any gadget, and users get the same experience no matter what device they are using.
Quality of support
My next step was to check a Casumo live chat. Actually, this casino offers two means of support: via e-mail or live chat. Though, I needed to check everything personally so I wrote my message (even though I honestly had not got any troubles to discuss) and started to wait for an answer. 
And I was immediately informed by the bot that real people were too busy to answer my messages and I had to wait. So that's what I did. 
5 min passed… then 10… then 15.. still nothing.
At last, after 20 min of waiting, I finally got the message:
The assistant was kind enough to answer all the questions I asked, but the responsiveness of this casino is fair to middling. Draw your conclusions.
I know that quick support is not what everyone is coming to a casino for, but would you think so when you need immediate help?
Additional information
There are two more things worth mentioning about this casino:
1. A chance to set limits.
You can have your individual game settings, and define the limits of time and money that you are willing to spend on this casino session. Or even suspend an account at all, if you need that. 
I didn't use any of these because I am quite good at my bankroll management and I never feel sorry about what I've lost. But this option might be useful for many new and experienced gamblers so take a look:
By the way, if you feel you or your friends are experiencing any addiction problems, or you simply want to keep your gambling habits under control - welcome to this page. 
2. Useful info for new players.
Casumo managers know well that players' education is something worth making efforts for. That is why they have created the special Slots section where they explain the most basic things to new gamblers. In this section, you can find answers to questions like:
how to play slots
what is a slot machine anatomy
how to win in slots
what are the most popular game features
and much more.
Conclusion
You can win money at almost any casino, but it's not everywhere where you can get them back. At a Casumo, I managed to get my winnings quickly, so my experience was rather positive than negative. 
Though, I need to admit a few weak points like the low games variety and tooooo busy support (have you been thinking of hiring a few more managers, guys?).
It's up to you whether to play at this casino or not, but I hope that my honest review has at least earned gratitude from my readers and a good exclusive bonus for me from Casumo managers. Write and tell me what your opinion of Casumo is. Is it the same as mine?